As many now know, at approximately 1:30 am on June 24, 2021, Champlain Towers South, located in the Miami suburb of Surfside, Florida, collapsed. This 136-unit, 12-story beachfront condo was home to many residents of all generations and cultural backgrounds. Several confirmed fatalities and over one hundred people are still missing as of this publishing. This unexpected, tragic event has stopped South Florida in its tracks as people far and wide mourn the ever-mounting loss in the community.
Miami is not only a tropical vacation destination and a sprawling business landscape. It is first and foremost home to a strong community quick to come together and help in the face of hardship. Many individuals, religious organizations, businesses, and relief groups have organized efforts to lend a hand anywhere they can.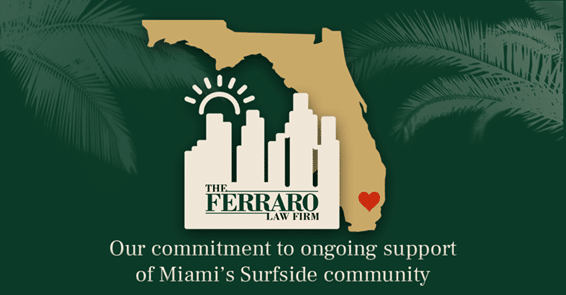 While The Ferraro Law Firm has a nationwide footprint, the firm's foundation has been deeply rooted in Miami for nearly three decades. Our team of attorneys and support staff have witnessed the profound pain experienced by our neighbors and immense loss from within the community from the past week's events. To assist in ongoing relief efforts, The Ferraro Law Firm has made a $25,000 donation to Global Empowerment Mission (GEM) which is spearheaded by Miami native Michael Capponi.
"The grief associated with this heartbreaking week will stay with the nation for many years to come," shared Partner James Ferraro, Jr. "Keeping helping hands within our community is key to remembering, rebuilding, and supporting all those who have been affected."
Looking to ease some of the pain and difficulty currently being experienced by residents, GEM in conjunction with Bstrong have responded by providing $1,500 GEM Bstrong Visa cards to residents of the Champlain Towers South. All donated funds will be dispersed amongst survivors to help with short-term cash needs. GEM Bstrong has also supported the Shul of Bal Harbour with Family Necessities Kits, provided first responders with essential goods and meals from restaurant groups, and partnered with the Alexander Team to assemble a portfolio of over 100 apartments for surviving residents.
Please consider donating to GEM for continued assistance to the residents and supporting members of the local community:
• Donate to the Champlain Tower Residents
• Donate to GEM's Surfside program
Additional Resources: